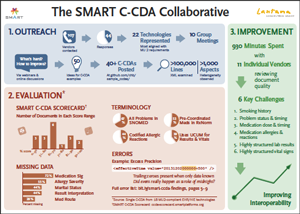 By David Kreda and Joshua Mandel
2014 will see wide-scale production and exchange of Consolidated CDA documents among healthcare providers. Indeed, live production of C-CDAs is already underway for anyone using a Meaningful Use 2014 certified EHR. C-CDA documents fuel several aspects of meaningful use, including transitions of care and patient-facing download and transmission.
This impending deluge of documents represents a huge potential for interoperability, but it also presents substantial technical challenges. We forecast these challenges with unusual confidence because of what we learned during the SMART C-CDA Collaborative, an eight-month project conducted with 22 EHR and HIT vendors.
Continue reading "C-CDA Endoscopy, or
Improving Clinical Document Exchange"